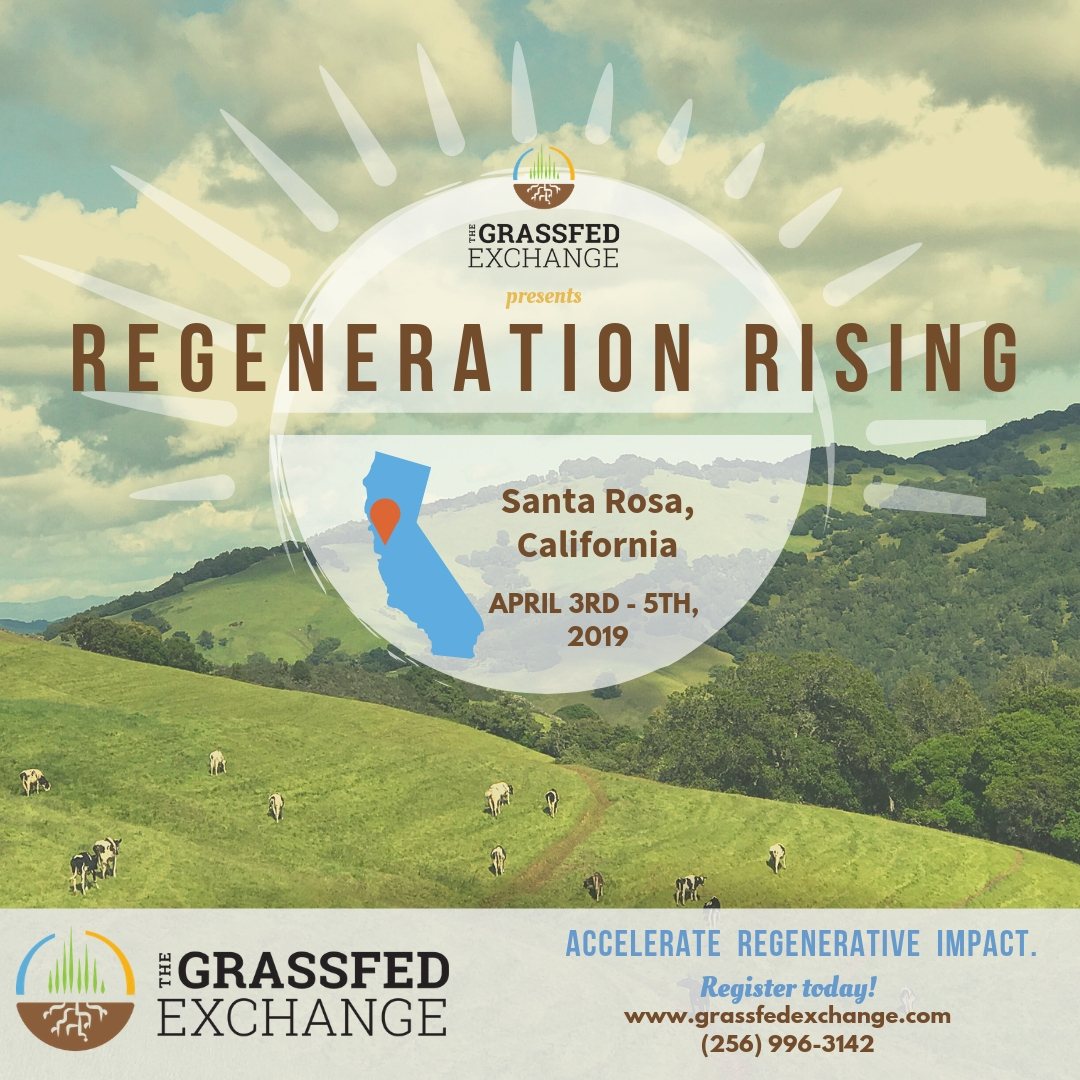 We could not be more excited to be co-chairing the The Grassfed Exchange conference: Regeneration Rising this April in Santa Rosa, California!
We have an absolutely packed agenda of national and global speakers. We're also centering the voices of next generation leaders, including Doniga Markegard, Ariel Greenwood, Brian Alexander, Byron Palmer, Nikki Silvestri, Dede Boies, Loren Poncia, Anthony Myint, and more.
Regeneration Rising - why attend this year?
This is the first year the Grassfed Exchange has come to California. We're excited to deepen connections between the national movement of farmers and ranchers raising pasture-based livestock, and our vibrant regenerative community in Northern CA.
This year's conference theme, Regeneration Rising, is focused specifically on empowering the next generation of regenerative farmers. Borrowing a phrase from Nikki Silvestri, let's increase the number and complexity of relationships between each other, like soil.
Who are the speakers and topics?
Pasture tours led by successful local businesses Stemple Creek, Grounded Grassfed, Beretta Dairy, McClelland Dairy on advanced forage management, innovative business models, public-private leases, getting paid for carbon farming, building beloved consumer brands
Drawing the connections between food, gut health, soil health by Dr. Zach Bush
Investing in an ecosystem of regenerative businesses by Nikki Silvestri
Managing with global regenerative context: Kanyon Sayers Roods, Reginaldo Haslett-Marroquin, Daniel Suarez, Alejandro Carrillo, Charles Massy, connecting native land management practices and (re)innovations in California, Guatemala, Mexico, Australia
Real Talk session on accessing land, getting funding, navigating difficult conversations led by young producers Dede Boies, Ariel Greenwood, Holly Heber
Three tracks of grazing management - Core Skills, Multispecies, and Advanced - with seasoned mentors like Doniga Markegard, Joe Morris, and Glenn Elzinga
Managing through wildfire and prescribed burning as a tool, led by Dr. Stephanie Larson, Brian Alexander, and Kyle Farmer
Latest in regenerative science: soil carbon data networks, methane reducing seaweed, GHG sequestration, led by Dr. Cyndi Daley, Paige Stanley, Joan Salwen, Kelly Garbach
Activating regenerative consumer demand with The Perennial Foundation, Kiss The Ground
Building regenerative supply chains with Straus Family Creamery, Fibershed, Mindful Meats
Hope to see you in Santa Rosa!
Christine Su
Co-Chair of Regeneration Rising: Grassfed Exchange 2019