2019 has seen the biggest winter storms on record, a remarkably late spring, even snow in May - and we're only halfway through the year. Looking ahead into the future, the only constant we can expect is change.
That's why we're excited to announce PastureMap's Forage Forecasting and Scenario Planning features. So you can make big decisions during the grazing season, backed by smart data.
Get a better grip on your forage estimates
Our Forage Forecast dashboard shows how much you've grazed so far, and what's left on every single pasture. Make better estimates of remaining forage by comparing to prior years and NRCS rangeland estimates.
As the season progresses, update forage estimates, and track remaining forage as you go.
Refine forage estimates with smart data
PastureMap calculates smart forage estimates based on the many soil types in your pastures. Our algorithms cut up each pasture and compare it to NRCS Rangeland Forage estimates in the USDA Web Soil Survey. For data geeks like us - here's how our algorithms crunch the math for forage estimates.
The result? Your pasture-by-pasture forage estimate for wet, normal, and dry years.
Make forage estimates with NRCS guidelines, plus the last 3 seasons of actual data in PastureMap, as guideposts. (Pro tip: A lot of PastureMap clients harvest more ADAs than NRCS baselines, because you're adaptive grazing rockstars.)
Forecast how many grazing days are left
On our grazing chart, you can manage each property as a separate grazing cell. See how much forage is left on each pasture - and total grazing days left for the entire property.
Do scenario planning throughout the season
Do scenario planning by adding or subtracting new herds anytime during the season. If you're having a great rainfall year, it's not too late to harvest more forage with additional stockers. Add new herds into your grazing plan, and see how many grazing days you have left.
Play with new scenarios every day. Our Scenario Planning is smart enough to change "Grazing Days Left" every day as your actual herds are grazing - and as you refine forage estimates during the season. It's the ultimate sandbox.
Use Better Data to Make $100,000 Decisions
Heidi Terrell of Terrell Farms, in the Nebraska panhandle compared past seasons of ADA data from PastureMap and realized she was leaving money on the table on one property when she saw her ADAs in PastureMap go down. This season, she is stocking 1000 more yearlings, creating $100,000 more value out of her resource base.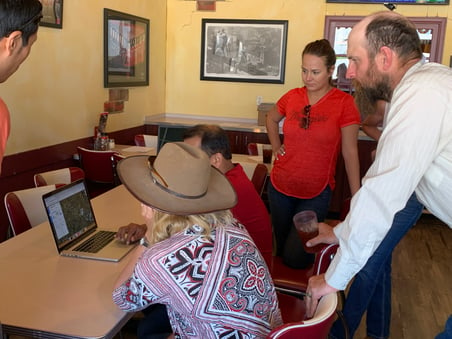 Heidi and Derek Terrell can look up multiple years of grazing records, and pull up ADAs harvested so far by their ranch staff, from anywhere.
Derek Schwanebeck, who ranches nearby in the Sand Hills, has expanded his contract grazing business from 9,000 acres to 35,000 acres since he started using PastureMap.
Derek is able to grazing more ADAs than the NRCS average, using adaptive grazing methods. Because he keeps great records and shows how he's improving the grasslands, landowners come to him asking them to manage their properties.
CK Wisniewski from PastureMap team and Derek Schwanebeck, taking pasture inventories together in the field.
Derek is adamant about showing landowners the data about what he's doing. It's critical to building trust and expanding his business.
Heidi agrees, "Nobody else can walk into the bank with the data that I have from PastureMap. It shows exactly what I'm doing and what we're capable of."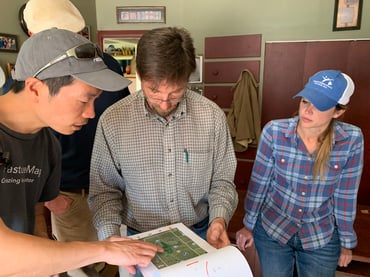 Derek shares PastureMap printed maps and grazing plans to everyone from his ranch hands to land management reporting binders for landowners.
Ready to try Forage Forecasting?